HOME
Available Pups
Contact
FAQ's
Delivery Info




APPLICATION

Click the APPLICATION link above.





DEPOSIT




Click to make a deposit

We feel honored that you trust us with such an important task as finding a new family member in the puppy you will someday own and we take our responsibility to you and our pups very seriously!

1. Call for a phone interview: 989-372-1775 (Eastern Standard Time). The initial telephone interview is the first part of the application process. Phone conversations give us the opportunity to meet and get to know you a bit and learn about your personal circumstances and evaluate the likelihood of our ability to meet your needs. Puppy placement is a very important task and we want you to be happy with your Collie puppy and confident about adding a new family member to your home. Before calling please read our Frequently Asked Questions where you will find answers to many of your questions.

Please - * No calls after 8 p.m. * No Sunday inquires.

2. After the telephone interview, please download, print and fill out the Collie Application (above) and mail it in with your $200.00 non-refundable deposit - or you may PayPal your deposit using the link above.

3. Our Collie colors are usually Sable and White, and Tricolor. Sometimes we have White, and Blue Merle Collie puppies available too. Click here to see a photographic color description so you can be sure to correctly identify the color you are interested in on the application form.


EXCELLENT PUPPY PREPARATION BOOK
Starting Out Right With Your New Puppy. If you are getting a new puppy, this excellent book has important information to help you and your family prepare for the arrival of your new puppy, and then it offers excellent pointers to make the best start in the first few days. Available for Kindle from Amazon. Click the picture to order your copy!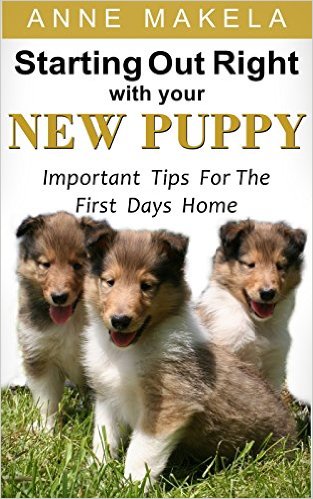 Starting Out Right With Your New Puppy