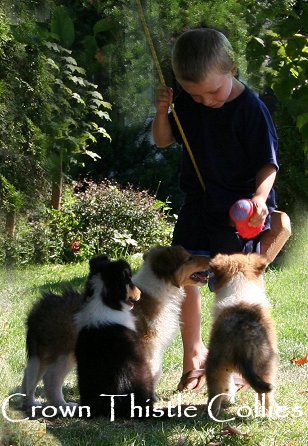 Pictured above is our grandson, Johnathan, playing with 5th generation Crown Thistle Collie puppies while being filmed by Animal Planet. Collies are exceptionally good dogs with children.!

Q: Why should I buy a Crown Thistle puppy?
A: Intelligence and personality are the top reasons.

We take pride in breeding stylish, confident and intelligent standard Rough Collies that are a joy to own! Our buyers and visitors are always so impressed by the personality of Crown Thistle Collies who are warm, friendly and affectionate even to strangers. Collies are exceptionally good with children and make great family dogs.



Return to Collie Questions



Q: Why are the personalities and temperaments of Crown Thistle pups so exceptional?


A: We work very hard to make sure our pups are the result of carefully planned breedings that have the most potential to improve the Collie breed and produce superior puppies - pups that will be easy to train, highly social and gentle mannered.

We have a unique and lengthy evaluation process of our breeding Collies and our breeding lines include Collies that are imported from Europe to help ensure soundness and well-being through genetic diversity.



Return to Collie Questions



Q: Why do you import Collies from Europe for your breeding program?


A: We feel that the opportunity to improve the health, intelligence, temperament and over-all well-being of our Collie dogs is greatly enhanced by implementing measures to ensure genetic diversity.

This is why our breeding program includes both U.S. and European Collies. Importing dogs prodigiously widens the gene pool of our Collie bloodlines. This affords more favorable circumstances for health, longevity and genetic stability (as a positive alternative to inbreeding), all factors which directly lend themselves to the quality of our dogs lives. It is because we feel that it is very important to be more than just good looking that genetic diversity is a valuable consideration in our breeding program.

Our dogs also lead high functioning and productive working lives. It is very important, therefore, that our Collie dogs can see easily and well in order to do the work that they do. We feel that generally, European Collies have an eye set that is not too small, and which potentially lends itself to better visual acuity.



Return to Collie Questions



Q: Aren't all pups the same?


A: Quite simply, no.

Our breeding program features Collie dogs that have been carefully selected for not only being outstanding examples of the classic Rough Collie, but also for their health, superior intelligence, trainability and affectionate natures as well.

Conscientious dog breeding involves an in-depth study of genetics and breed-type to produce sound lines that prove themselves generation after generation.

Our high standards set us apart in many ways and include extra consideration regarding advanced nutrition, in-home whelping, careful puppy socialization, early educationally enriching environment, and temperament testing.

Combined with all of that is the special obligation we feel towards making excellent placements that benefit each and every puppy as well as each and every buyer - the difference is easy to see!



Return to Collie Questions



Q: Why are your pups so affordable?


A: Affordibility is part of our sincere commitment to our customers.

We feel that price is an important factor for many families looking to purchase a Collie and part of our goal as Collie breeders is to provide high quality pups at an affordable price. We also consider the fact that our buyers often have to make extended travel arrangements to purchase one of our puppies and we try hard to keep our prices reasonable.



Return to Collie Questions



Q: Why is your application process so easy and friendly?


A: We feel a special commitment to our buyers to provide excellent customer service right from the very start and that begins during the application process.

We feel honored that you trust us with such an important task as finding a new family member in the Collie you will someday own. We believe the application process can and should be polite, non-intimidating, friendly and respectful of your inquiry while ensuring the future happiness of our pups as well. Friendly phone conversations with potential buyers give us the opportunity to learn about your personal circumstances and evaluate the likelyhood of our ability to meet those needs. We provide you with as much time as needed to answer your questions fully so you are able to make a good decision. Most often, our buyers become extended family members and that means a lot to us.



Return to Collie Questions



Q: Do Collies shed a lot and require a great deal of grooming?


A: Collies have a thick, beautiful coat that you will want to look its best at all times.

Though their grooming needs are not difficult, a Collie dog should be lightly brushed every other day or so with a thorough brushing about once a week. The reward for your effort is minimal shedding and a Collie that looks its best every day. A well groomed Collie radiates with classic beauty and is worth the effort!



Return to Collie Questions



Q: Are Collies good with Children?


In our experience, Collies are exceptionally good with children.

Collie dogs are extremely joyful by nature and simply love the attention and playfulness of children. When well bred and attentively trained, a Collie dog often acts as though it is their duty to diligently watch over their family members as almost a "guardian". They are happy to be a part of nearly any activity just as long as they can be with those they love. They lavish their families with intense devotion!



Return to Collie Questions



Q: Are females easier to train than males?


During training, clients find that our Collie dogs are loyal, affectionate and willing learners who are easy to train regardless of gender. Their sweet natured dispositions are not gender influenced - every Collie is an individual with a unique personality and should be considered as such during training.

Some people believe that females are more affectionate and easier to train. Those individuals generally have little actual experience to base such an opinion on. In my broad experience I can tell you that this notion is absolutely misguided and completely false. The misnomer that females are somehow "better" than males seems rooted in the old folk-lore mentality that females are more desirable because they can be bred to generate a monetary return from the sale of their puppies.

The simple fact is - males are no less affectionate than females, and very often males are more affectionate and even easier to train than females. Remember, the dogs who starred as "Lassie" in the classic Lassie movies were usually male Collie dogs and not female Collies - due in part to males having a thicker coat, among other reasons.

However, this is not to say that females are short-comming when it comes to trainability and loving personalities, it is just that males are every bit as wonderful! That is why we do not have a price difference between males and females.

A male should be neutered at about 5 to 6 months months before his hormones develop.



Return to Collie Questions



Q: How long do Collies live?


The average lifespan of a Collie is 8-12 years.

But, keep in mind that both lifespan and quality of life depend on a combination of factors including genetic diversity, diet, exercise, responsible weight maintenance, mental well being, and regular Veterinarian care (among other things), all of which play a key role in how long your Collie dog will live.



Return to Collie Questions



Q: May I visit Crown Thistle Collies?


A: Yes. Potential customers are always welcome by appointment only.

Please note that this is our home and you must make an appointment ahead of time. For the health and safety of our dogs, we also discourage visitors from bringing their dogs without advanced notice.



Return to Collie Questions



Q: Is it important to meet the parents of my puppy?


A: We feel that it is very important for you to meet the parents of the pup you are purchasing. Meeting the parents gives you an indication of the future potential personality of your puppy. A breeder who does not allow a buyer to meet both the Dam & Sire is likely hiding something.



Return to Collie Questions



Q: Will I be allowed to handle puppies?


A: You are only allowed to handle your pup and only when he/she had had her first vaccinations.

We are very careful about preventing the transmission of diseases. Visitors are never allowed, or invited, to handle or view pups as a "holiday" adventure. Most of our Collie puppies are sold before they are born or shortly there-after. All buyers have the comfort of knowing that their Collie pups are never handled by the general public. This has been our policy for almost 30 years.



Return to Collie Questions



Q: Where can Crown Thistle Collies be found in North America and Internationally?


A: Crown Thistle Collies have been sold throughout the United States, Canada and overseas. Our buyers travel great distances for their treasured new family member - a special Collie puppy from Crown Thistle Collies at Quaker Farm!



Return to Collie Questions



Q: Why won't you ship your puppies?


A: While we are aware that some breeders do so, we simply don't feel comfortable shipping our pups without the benefit (and emotional comfort) of the personal presence of their buyer.

You may fly in to Detroit, Flint or Saginaw, Michigan and we will meet you there (for an extra fee) and you can take your pup with you on the plane as "carry-on" that will be stowed under the seat in front of you. This is one reason why our pups are so reasonably priced - it allows our buyers to provide for necessary travel arrangements. This also allows us to personally meet our buyers which is very important.

We do offer ground shipment - priced according to location.

Please call us to make travel arrangements and visit our Delivery page.



Return to Collie Questions



Q: Do you require a deposit?


A: We require a $200 non-refundable deposit which is put towards the purchase of a puppy.

It is very important that you call us for an interview, to find out about availability and to make sure we are accepting deposits at the time of your interest.

You MUST fill out our puppy application and submit it with your mailed deposit, or directly after a deposit made via pay pal.

Please do not send an application or deposit until after your telephone interview.



Return to Collie Questions



Q: When can I expect to pick up my puppy?


A: Pups are evaluated for placement at our discretion which is based on experience and thorough evaluations of each individual puppy. This is usually by 8 weeks.



Return to Collie Questions



Q: Where are you located?


A: We are located in Harrisville, Michigan on the east side of the state near the shores of Lake Huron. Depending on weather and traffic, we are approximately 3 1/2 to 4 hours north of Detroit off of U.S. 23.



Return to Collie Questions



Q: Why do you place such an emphasis on excellent nutrition?


A: After genetics and environmental stability, few things have such a profound impact on the health, well-being and longevity of a dog's life as excellent nutrition.

We take the nutritional needs of our dogs and puppies very seriously and we were filmed cooking for our dogs for Animal Planet! Our Kennel is unique for the fact that we diligently ensure that our dogs receive a diet brimming with natural and wholesome sources of nutrition.

As part of their daily diet, our dogs receive supplements of fresh goat milk, farm fresh eggs (cooked), meat/vegetable stews (chicken, lamb or chevon), whole grains, pro-biotics and more. The benefits of our efforts can be noted in the extraordinary coat quality of all of our dogs, their complete lack of allergies and skin problems, and the individual excellent over-all mental and physical health of each and every one of the dogs who live here. Nutrition is just as important for a dog as it is for a human - never doubt that fundamental truth!

For practical purposes, we are careful to prepare our pups for the future likelyhood of a commercial diet in their new homes. We do this by incorporating an excellent dog food mixed along with their natural foods for the benefit and convenience of our buyers.

We also offer nutritional advice and education to our buyers and visitors via personal consultations and information posted at our Internet site.



Return to Collie Questions



Q: Why are Crown Thistle Collie pups sold with restricted AKC registration?


The quality of our dogs is the direct result of years of study, effort and investment.

As a result, Crown Thistle Collies at Quaker Farm are very, very special and in many ways unique. We work hard to produce puppies that are top quality and we feel we do a very good job - as few others do. Thus, we feel compelled to protect the integrity of our breeding program. Unless you intend to breed your dog, full registration is not necessary.

We absolutely do not sell Collie pups or dogs to people who want to breed their dogs. We do not sell pups or dogs to brokers or commercial breeders. No exceptions, don't ask.

We require a spay/neuter agreement for all of our Collie pups - failure to do so results in the cancellation of any and all health guarantees.



Return to Collie Questions



Q: Do you sell Collie dogs or puppies for breeding?


A: Very rarely and then only in partnership with Crown Thistle Collies. We do this for 2 reasons:

1. To preserve the integrity of our breeding lines.

2. To prevent our remarkable dogs from becoming a part of an indiscriminate breeding program.

Our primary focus for breeding dogs is to to improve the Collie breed and preserve the next generation of our blood lines. This provides an outstanding opportunity for families who want a quality, well bred Rough Collie to own and share their lives with as an exceptional family member.



Return to Collie Questions



Q: Do you offer stud service?


A: No.



Return to Collie Questions



Q: What are the coat colors of your Collie dogs and puppies?


A: We do not intentionally breed our Collie dogs for any specific color because we feel that personality, temperament and intelligence are far more important attributes than color.

Having said that, our Collie dogs and puppies are usually Sable and White, and Tricolor. Sometimes, we also have White, and Blue Merle Collie puppies available too. Click here to see a photographic color description so you can be sure to correctly identify the color you are interested in.



Return to Collie Questions



Q: What are health concerns to be aware of with Collies?


A: Rough Collies are generally healthy, resilient and not prone to illness.

With a natural diet and genetically diverse pedigree, Collie dogs can also be long lived (ours often live 16 years or more). However, as with all breeds of dogs, Collies are inclined to health issues, specific to the breed, that you should be aware of.

A common ailment for Collies is called Collie Eye Anomaly (CEA). It is a genetic disorder which causes improper development of the eye and possible blindness. More rarely, Collies can also be affected by another genetic eye disease called Progressive Retinal Atrophy (PRA), in which bilateral degeneration of the retina results in progressive vision loss culminating in blindness. While it is theoretically possible to eradicate both of these problems in Collies through genetic testing and a careful screening program, the AKC (American Kennel Club) does not require these tests to be done for litter registration. This is unfortunate as it allows less rigid breeding standards.

When improperly bred, Collie puppies can be born blind, and can also be prone to deafness, have hip problems, skin allergies and other health concerns.

For these reasons and more, it is important to purchase your collie from a reputable collie breeder such as Crown Thistle Collies where important health screening is done and dogs are bred for excellent health as well as sound temperament, plus, breeder support is available for the life time of your puppy.



Return to Collie Questions



Q: Do you debark your Collie dogs or puppies?


A: This is one of the more shocking questions we have been asked, and the answer is NO. We do not debark our Collie dogs or our Collie puppies; we never have - and we never will.

We do not feel that debarking our Collie dogs or our Collie puppies is good for their well-being or mental health. Crown Thistle Collies at Quaker Farm are purpose bred and raised to be loyal family companions, working dogs, and even dependable therapy or service dogs. Because of this, we feel that the well-being of the "whole dog" is an important consideration for the high quality lives they live.



Return to Collie Questions



Q: Do you ever rescue Collie dogs?


A: ALL Crown Thistle Collies from Quaker Farm have a home here for life. Anyone who purchases a Collie puppy or dog from us is able to return that Collie to us at any time, and for any reason, throughout the life time of the dog - though in fact it has rarely ever happened.

However, not all Collie dogs have that same security. That is why, throughout the years, we have at times been priviliged to assist with, and contribute to efforts in, Collie rescue. Fortunately, we have never faced a dire rescue situation involving one of our Crown Thistle Collie dogs or pups. But occasionally, and in the right circumstances, we are able to offer rescue services to people who have gotten their Collie elsewhere and then find themselves unable to keep their Collie dog or return it to their origional breeder.

If you have a need for Collie rescue, please contact us so that we can discuss and evaluate your situation and our ability to be able to serve you. We do the best we can, when we can.