Harrisville, Michigan - USA
Crown Thistle Collie puppies include U.S. and European Bloodlines

Featured on Discovery Network, Animal Planet, DOGS 101, click HERE for fascinating film photos!
Contact
FAQ's
Meet Our Collies
AVAILABLE PUPS
Prices/Policies
---
Accepting Deposits For Spring 2023 rough Collie Puppies

989-372-1775 quakerfarm@gmail.com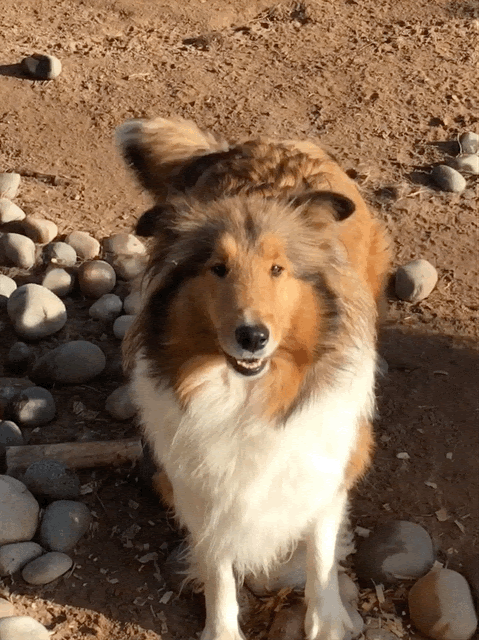 Welcome to Crown Thistle Collies!
My name is Sam and I invite you to scroll down for more information about our classic rough Collie dogs. Please email us or call if you have any questions.
---
Watch the fun video of Crown Thistle Collie puppies playing!

---





Coping with COVID19


On behalf of Crown Thistle Collies, our hearts go out to everyone during this time of the uncertainty associated with COVID-19. Crown Thistle Collie families and clients may be assured that dog training classes and consultations are now formatted for online modules. Our services are on schedule. You will be apprised of our Covid19 safety protocols as they are updated.

We care about your concerns and are available to our clients by phone or by text. We are here to support you, your dog, and your precious Collie puppy.

Take care, and be safe!



CLICK ON THE PICTURE to see some of Lassie's newborn Collie puppies!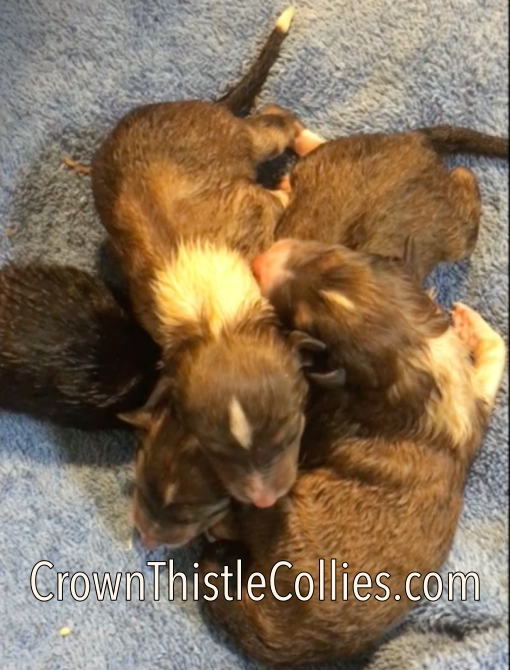 LASSIE'S NEWBORN PUPPY VIDEO
CLICK ON THE PICTURE to listen to the heartbeat of Lassie's unborn Collie puppies!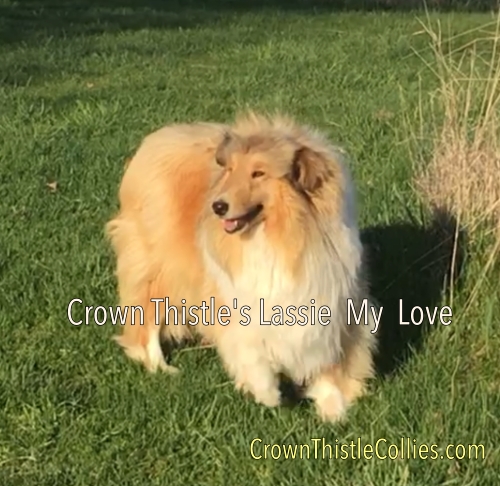 LASSIE ULTRASOUND VIDEO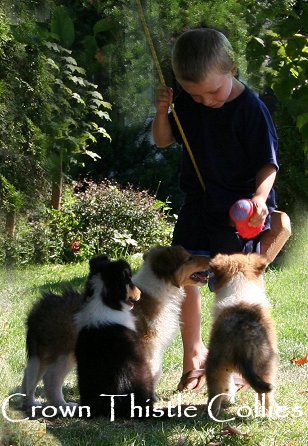 At Crown Thistle Collies, we sell the best rough Collie puppies from farm-raised family dogs who are beloved members of our family. Due to the popularity of our Collie dogs, we sometimes have a waiting list. Our goal in breeding Collies is to advance and preserve our bloodlines and improve the next generation of our remarkable, high-functioning, and brilliantly capable rough Collie dogs.

We are located in Harrisville, Michigan. As a Michigan Collie breeder, we sell quality rough Collie pups from normal-eyed championship European and American bloodlines.

We specialize in rough Sable and White Collie pups, Tricolor Collie puppies and occasionally we have White and Blue Merle Collie pups as well. Our Collies are purpose-bred to not only have beautiful conformation, but to also have calm, gentle, intuitive, and highly intelligent temperaments as well. We have both show champion and working Collie bloodlines at our farm. We raise only classic rough Collie dogs and do not work with or breed smooth Collies.

Pictured left is grandson Johnathan, a 5th generation Collie enthusiast, playing with 5th generation Crown Thistle Collie puppies while being filmed at Quaker Farm by the Discovery Network for Animal Planet, DOGS 101.










A Quick Training Moment at Quaker Farm.
Training a dog is about a life relationship, and a lot of LOVE.
| | | |
| --- | --- | --- |
| Step one - Make it Fun! | | Step 2 - Keep it Fun! |
Step 3 - Enjoy the Results!


Collie dogs go back in our family for generations and childhood Collie friends were legendary, such as King who was a classic Lassie look-alike, a sable rough Collie that exemplified both breed standard and temperament, while "Shadow" was one of our stylish companions - a beautiful Tricolor Collie who loved children, and whose devotion will be remembered forever.






Our 5 star rated puppy training book is packed with information you need!
Our beautiful vintage Collie dog designed Collie Training Logbook and Memory Journal make great gifts!



COLLIE DOG BOOKS and STORIES